High Pointing
Back to Hiking
I am a high pointer. My goal is to get to the highest point of every state. I love to hike, either alone or with company. I enjoy pushing myself to the limit. Some day I will be too old to keep doing these adventures and want memories to look back on.
Asta the Small Dog was a very important to me, he was my soul dog. In life he had 29 high points. With great love I share with you Asta's High Point photo album
United States High Points
The map below shows the high points that I have completed. I did not get a solo permit for Mount Rainier, I have only been as high as Muir Camp, so far.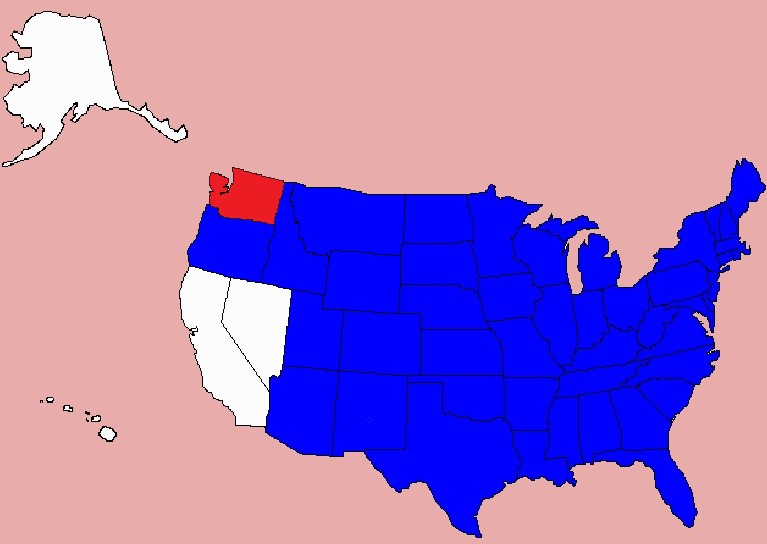 | State | High Point | | | | Elevation | Difficulty Rating | Date Completed | Current Conditions |
| --- | --- | --- | --- | --- | --- | --- | --- | --- |
| Alabama | Cheaha Mountain | W | PB | | 2405 | 46 | 05/12/2010 | |
| Alaska | Mount McKinley | W | PB | | 20320 | 1 | | |
| Arizona | Humphreys Peak | W | PB | | 12633 | 10 | 07/18/2011 | |
| Arkansas | Magazine Mountain | W | PB | | 2753 | 28 | 10/25/2013 | |
| California | Mount Whitney | W | PB | | 14495 | 8 | | |
| Colorado | Mount Elbert | W | PB | | 14433 | 9 | 07/15/2008 | |
| Connecticut | Mount Frissell | W | PB | | 2380 | 20 | 07/04/2005 | |
| Delaware | Ebright Azimuth | W | PB | | 442 | 49 | 05/15/2010 | |
| Florida | Britton Hill | W | PB | | 345 | 50 | 05/13/2010 | |
| Georgia | Brasstown Bald | W | PB | | 4783 | 26 | 05/12/2010 | |
| Hawaii | Mauna Kea | W | PB | | 13796 | 30 | | |
| Idaho | Borah Peak | W | PB | | 12662 | 6 | | |
| Illinois | Charles Mound | W | PB | | 1235 | 32 | 06/05/2011 | |
| Indiana | Hoosier Hill | W | PB | | 1257 | 40 | 11/21/2010 | |
| Iowa | Hawkeye Point | W | PB | | 1670 | 41 | 11/18/2005 | |
| Kansas | Mount Sunflower | W | PB | | 4039 | 44 | 07/19/2009 | |
| Kentucky | Black Mountain | W | | | 4139 | 42 | 10/24/2011 | |
| Louisiana | Driskill Mountain | W | PB | | 535 | 25 | 10/28/2013 | |
| Maine | Katahdin | W | PB | | 5268 | 15 | 09/11/2005 | |
| Maryland | Backbone Mountain | W | PB | | 3360 | 22 | 05/30/2010 | |
| Massachusetts | Mount Greylock | W | PB | | 3488 | 39 | 06/19/2005 | |
| Michigan | Mount Arvon | W | PB | | 1978 | 24 | 09/19/2012 | |
| Minnesota | Eagle Mountain | W | PB | | 2301 | 18 | 09/18/2012 | |
| Mississippi | Woodall Mountain | W | PB | | 806 | 48 | 10/29/2013 | |
| Missouri | Taum Sauk Mountain | W | PB | | 1772 | 33 | 10/27/2013 | |
| Montana | Granite Peak | W | PB | | 12799 | 3 | | |
| Nebraska | Panorama Point | W | PB | | 5426 | 43 | 07/19/2009 | |
| Nevada | Boundary Peak | W | PB | | 13140 | 11 | | |
| New Hampshire | Mount Washington | W | PB | | 6288 | 38 | 08/31/2010 | |
| New Jersey | High Point | W | | | 1803 | 36 | 09/15/2007 | |
| New Mexico | Wheeler Peak | W | PB | | 13161 | 12 | | |
| New York | Mount Marcy | W | PB | | 5344 | 14 | 10/14/2006 | |
| North Carolina | Mount Mitchell | W | PB | | 6684 | 35 | 10/24/2011 | |
| North Dakota | White Butte | W | PB | | 3506 | 23 | | |
| Ohio | Campbell Hill | W | PB | | 1549 | 47 | 11/21/2010 | |
| Oklahoma | Black Mesa | W | PB | | 4973 | 17 | 07/20/2009 | |
| Oregon | Mount Hood | W | PB | | 11239 | 5 | | |
| Pennsylvania | Mount Davis | W | PB | | 3213 | 45 | 05/30/2010 | |
| Rhode Island | Jerimoth Hill | W | PB | | 812 | 29 | 11/08/2009 | |
| South Carolina | Sassafras Mountain | W | | | 3554 | 37 | 10/27/2011 | |
| South Dakota | Harney Peak | W | PB | | 7242 | 18 | 07/21/2008 | |
| Tennessee | Clingmans Dome | W | PB | | 6643 | 27 | 09/13/2007 | |
| Texas | Guadalupe Peak | W | PB | | 8749 | 13 | 07/20/2011 | |
| Utah | Kings Peak | W | PB | | 13528 | 7 | | |
| Vermont | Mount Mansfield | W | PB | | 4393 | 21 | 08/07/2005 | |
| Virginia | Mount Rodgers | W | PB | | 5729 | 16 | 05/09/2010 | |
| Washington | Mount Rainier | W | PB | | 14411 | 4 | | |
| West Virginia | Spruce Knob | W | PB | | 4861 | 34 | 05/30/2010 | |
| Wisconsin | Timms Hill | W | | | 1951 | 31 | 09/19/2012 | |
| Wyoming | Gannett Peak | W | PB | | 13804 | 2 | | |
Legend:
W - Wikipedia Page
PB - Peak Bagger Page
- My Trip Report